Preface by Ted Adams
My "photopainting" techniques evolved from years of working as a professional black-and-white darkroom printer as well as from collecting antique and found photographs. The compositions themselves are an attempt to evoke a wistful, sepia-tone other-worldliness while presenting a modern structural and tactile sensibility. The pieces are a mixture of photography, graphic design, painting and collage created with successive layers of photographic images, paint, stains, varnish and various adulterants.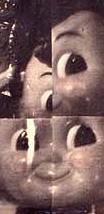 The "Still Life" series was created by photographing relatively small objects from many angles with a close-up lens. I then edited, arranged and re-arranged the prints to form designs comprised of 16 or 36 rectangles. The selected close-up images were enlarged on a photocopier, adhered to a surface, and manipulated with paint, coffee, polyurethane and sesame seeds.
The "Composition" series pieces were initially designed on a MacIntosh using old photographs, letters, and engravings from antiquarian books. These designs were then scaled on my computer to a large size and printed out in segments, which were glued to canvas or cardboard, then tinted, painted and varnished.
Before creating this artwork, I worked mostly in the sonic realm. I released various records on my own or licensed them to other record companies. The most noteworthy of these efforts was "Mild Seven International," a full-length CD I licensed to Silent Records in San Francisco, who distributed it internationally. I also produced noise/sound effects and music tracks for dancers and performance artists.
---
Email Ted Adams | missionCREEP
Ted's photography: tedadams.net