Return to: Hagen home page || missionCREEP.com
Susan Hagen
Recollection Tableaux
I have lived in the neighborhood just outside the walls of Eastern State Penitentiary for nearly twenty years. In its current condition this place is mysterious and beautiful, but I have often wondered what it looked like during all of the different eras when it served as an active penitentiary.
I began planning these sculptures by studying historic photographs, written descriptions and oral histories by the people who remember this institution. Some of my questions about life at Eastern State could not be answered, so I made conjectures based on the clothing, furniture, and routines common at the time.
Through this work I hope to offer a glimpse of the emotional experiences and mundane routines of daily life within the walls of this prison – and to find a shared humanity with the men and women who resided here.
Hooded Man
"Over the head and face of every prisoner who comes into this melancholy house, a black hood is drawn; and in this dark shroud, an emblem of the curtain dropped between him and the living world..." - Charles Dickens, describing Eastern State Penitentiary, American Notes, 1843.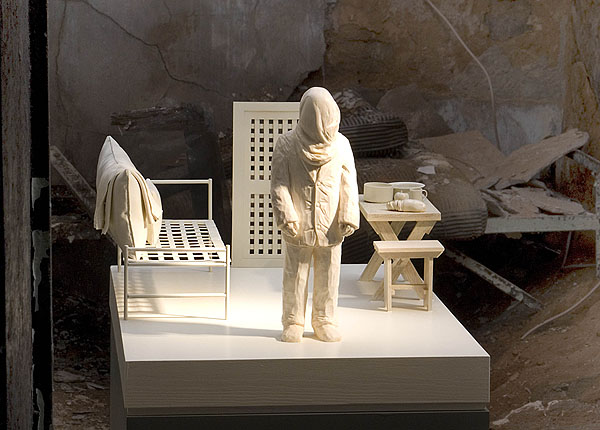 The prisoners were allowed to remove these hoods only when in their cells or exercise yards. The hoods were intended to prevent communication, keep the prisoners' identity secret and keep the design of the prison a mystery. The hoods were probably not used consistently, and they were officially discontinued in 1903.
Quilting Party
There were several public scandals throughout the history of Eastern State Penitentiary. An 1834 investigation described severe mistreatment of the prisoners. It also described "Quilting Parties," illegal gatherings of prisoners and staff, during which food and alcoholic beverages were served. Mrs. Blundin, wife of one of the penitentiary Overseers, allegedly organized several of these events.
The investigation found that Prisoner Number 100, an African-American woman named Ann Hinson, played the fiddle while guests danced. Several employees lost their jobs following the scandal, but Warden Samuel Wood remained. It is not known if the inmates involved were punished.
Shoemakers
The type of work assigned to prisoners changed throughout the prison's history. Work assignments in the late 1800s included textiles, cigar making, chair caning and shoemaking (seen here). By this time the penitentiary's system of separate confinement was nearly abandoned, and many prisoners shared cells. Inmates were sometimes allowed to have pets, such as rabbits, birds or cats.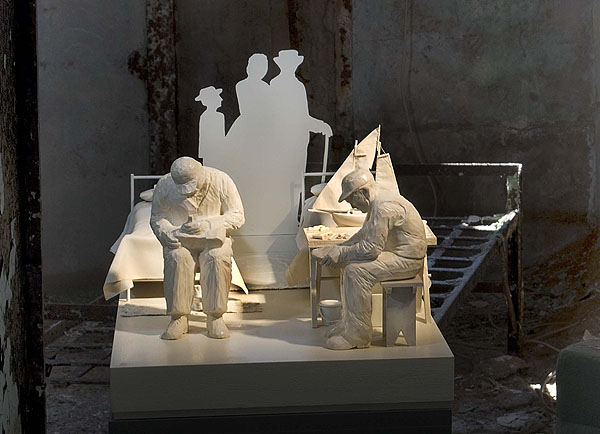 During this period, the prison was an enormously popular tourist destination. There were about 10,000 visitors a year, including celebrities, families, and school children.
The Hole
Eastern State's officers and administrators used solitary confinement (often in a dark windowless room, with reduced rations) as a punishment for uncooperative or violent prisoners throughout the prison's history. In the early decades, the prisoner's own cell was darkened by covering the skylight. Administrators later built special punishment cells, called "The Hole," or "Klondike." They became a prison inside the prison.
Solitary confinement, reduced rations, and exposure to extreme light and darkness are still used to punish rule-breakers in many modern prisons.
Elsie at Five Years Old
A number of children grew up inside Eastern State Penitentiary. Elsie Hough, the daughter of Warden Robert McKenty, moved here in 1906 when she was five years old. She played on the prison grounds and was friendly with many of the prisoners. She commented that she never felt afraid, explaining, "they were just like people to me."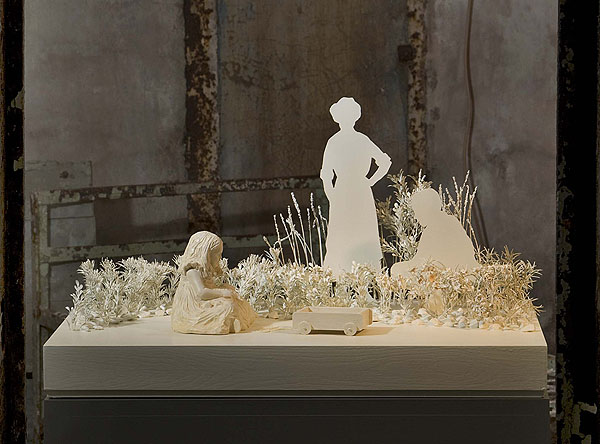 The family hosted 250 guests in the Warden's quarters for Elsie's wedding in 1921. She and her husband lived in the front Administration Building, and she gave birth to her first son here in 1922.
Holiday Decorating
Holidays were important to almost everyone who lived and worked at the penitentiary, and they were celebrated in many different ways throughout the history of the prison. Dozens of photographs in the historic site archives show festive decorations in the dining halls, cellblocks, and offices – and the warm smiles of both staff and inmates. Many prisoners later recalled that the holidays also brought a sense of regret or loss.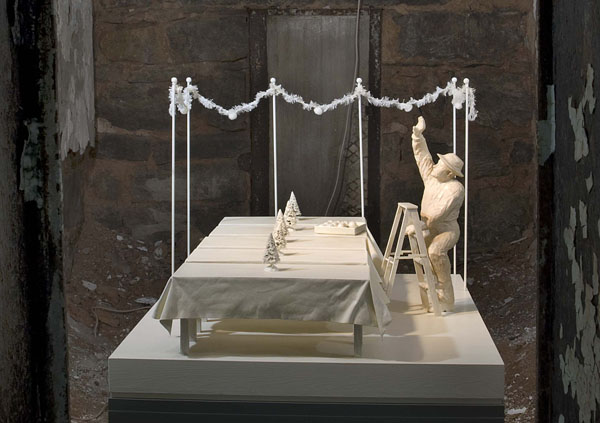 Prison Disturbance
In spite of the order and discipline that prevailed at most times, Eastern State Penitentiary could be a dangerous and violent place. There are many accounts of struggles between inmates, as well as between inmates and prison staff. There were numerous escape attempts, and riots where hostages were taken, mattresses burned and chairs smashed. Several officers and numerous inmates were killed in violent confrontations during Eastern State's long history.
Construction Workers
From the time that the first prisoners entered Eastern State in 1829, the noise and bustle of construction work was an ongoing fact of life. New cellblocks and support buildings were added to the original complex, and exercise yards were converted into dining halls and workshops.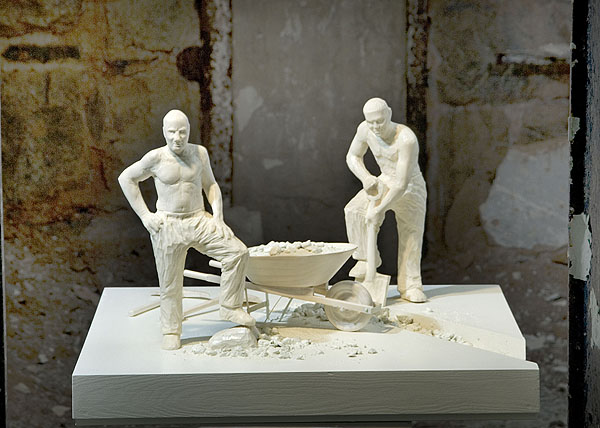 Many prisoners were assigned to demolition, refitting, rebuilding and maintenance crews. Some used skills acquired earlier in life, but many inmates were trained on the job. Eastern State housed prisoners for nearly 150 years; some areas of this prison were built and rebuilt many times.
The Prison Band
In the early 20th century, many prison officials grew to believe that art, music and recreation programs could have a beneficial effect on prisoners. The prison began hosting vaudeville shows and concerts by opera singers in the Recreation Room. Prisoners received music lessons on a variety of instruments, and some even played together in organized bands. The accomplishments of these musicians eventually became a source of pride for the entire institution.
TV Watchers
In the 1950s and 1960s, as newer prisons opened, Eastern State's inmate population aged dramatically. Although still a maximum-security prison, Eastern State became known as a relatively low-key institution. Warden William Banmiller made a controversial decision in the late 1950s, allowing television sets in the cellblock corridors. Inmates gathered on small stools and watched sets propped on high shelves. (One of these shelves can still be seen in a cell at Eastern State.)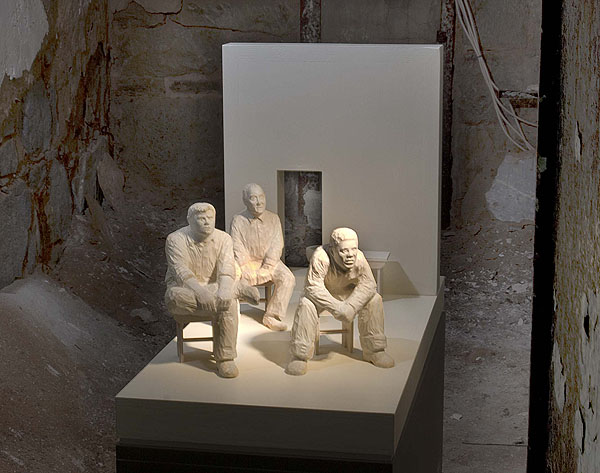 The last inmates left Eastern State Penitentiary in 1970.
Email: hagen@missioncreep.com
Return to:
Hagen home page || missionCREEP.com