Nitroglycerine!!!!!
The Rock & Roll Eruption of Wanda Jackson
by Mike Walsh
Cause I'm a Fujiyama Mama and I'm just about to blow my top
And when I start erupting ain't nobody gonna make me stop.
--Fujiyama Mama, Wanda Jackson (1957)

From 1956 to 1961, Wanda Jackson produced some awesome rock & roll. However, in the early 1960s events conspired to end her career in rock, and she turned to country music. But her rock & roll records remain as evidence that for a few years a young Oklahoma girl rocked as hard as anyone. She achieved a wildness and energy that was every bit as intense as her male counterparts, and today she ranks as one of the best rockabilly singers ever, male or female.
Wanda Lavonne Jackson was born in 1937 in Maud, Oklahoma, a small town about fifty miles southeast of Oklahoma City. Her father played piano in bar bands and worked whatever odd jobs he could find, which weren't many in the Dust Bowl during the Depression. So in 1941 he loaded up the family and headed for California and a better way of life. The family settled in Bakersfield.
Wanda first learned to sing in a church gospel choir. She learned to play the guitar after her father bought her one in 1943. Wanda practiced incessantly. As her mother later said, "Wanda wasn't like other children after the guitar came into her life."
The Jackson family moved back to Oklahoma City in 1949 when Wanda was 12-years-old. While attending high school, Wanda won a talent show at a local radio station. Her prize was a daily fifteen-minute radio program.
Hank Thompson, the country music star who lived in Oklahoma City, happened to hear her on the radio one day. He called Wanda and invited her to audition for his band, the Brazos Valley Boys. It was one of the biggest thrills of her life. She was soon singing with Thompson and his band on weekends.
In 1954, Wanda recorded a country duet with one of Thompson's musicians, Billy Grey, called "You Can't Have My Love." It was released by Decca and was a major hit, reaching #8 on the country charts.
Thompson approached Capitol Records about signing her, but they felt she was too young, so Wanda signed with Decca, even though still in high school. She recorded another fourteen songs for Decca during the next two years, most of them country love songs.
A few months after graduating from high school in 1955, Wanda hooked up with the "Ozark Jubilee," a country tour through the south. The tour featured many well-known musicians, including a young Elvis Presley, who had not yet become a national sensation.
She and Elvis were an item for a time, and he told her that rock & roll was going to be the next big thing and encouraged her to try it. She didn't think she had the voice for it, but he disagreed. He even recommended some songs for her. At first she was reluctant, but she signed a recording contract with Capitol at about that time and decided to give it a try.
Her first recording session for Capitol took place in Los Angeles in June 1956. She recorded "I Gotta Know," which starts out with a slow fiddle waltz but abruptly cuts loose into some very hot rock & roll, with Wanda hiccoughing and shrieking like a rockabilly pro. Each time the song shifts back to the country waltz, Wanda whines, "If our love's the real thing, where's my wedding ring?"
"I Gotta Know" reached the top 20 on the country charts. It also signaled that Wanda Jackson was a serious rock & roll talent. Elvis was right.
The rock vs. country love ballad dichotomy of this song typified Wanda's career for the next six years. She recorded about half country and half rock & roll. Capitol didn't seem to know what to do with her, so they hedged their bets and kept her working in both genres.

During the next few years, Wanda produced numerous examples of raw, prototypical rock & roll. The most distinctive aspect was her voice. She developed a wild, growling sound that at times sounds possessed or strangely alien. Basically, she sang like a raving banshee.
Wanda always enlisted top-flight studio musicians for her recordings, like Joe Maphis, Buck Owens, Big Al Downing, Skeets McDonald, and Vernon Sandusky. As a result, the guitar and piano tracks on her recordings are uniformly wonderful and, at times, just plain wack-o.
"Hot Dog! That Made Him Mad," also from 1956, is a lesson on how to keep your man coming back for more by driving him crazy. It's also the first example of many from Wanda of a sassy, assertive woman who refuses to be controlled by a man.
To teach him a lesson and make him mad
I went out on a date with the best friend he had
That made him mad, boy.
Hot dog! That made him mad
"Cool Love" portrays a woman who finds herself stuck with a shy dude who can't fulfill her needs. Imagine how these suggestive lyrics went over with Bible Belt parents.
Now don't you give me that cool love
Give me the kind I need
Start getting with it, baby
You're acting like a square to me
"Cool Love" has a medium tempo, a toned-down vocal, great guitar and piano leads, and 1940s-style male backup vocals. This is basically the formula used on the brilliant "Savin' My Love" (1959) and her underrated version of "Whole Lotta Shakin' Goin' On" (1963). The square backup vocals work wonderfully with her spitfire vocals.
"Lets Have a Party" from a 1958 session is one of the most sizzling tunes you'll ever hear. For pure energy and rebelliousness, it compares favorably with the best of Jerry Lee Lewis and Little Richard.
Elvis recorded the same song for a 1957 film, but Wanda completely out rocks the King on this number. She hollers, growls, and whoops with a vengeance. It's a high-speed, ecstatic romp from beginning to end. The lyrics are pure hillbilly nonsense.
I never kissed a bear, I never kissed a goon
But I can shake a chicken in the middle of the room
Let's have a party, whoo!
It's hard to tell what's going on at this party, but when people are shaking chickens, things have gotten out of hand. Believe it or not, "Let's Have a Party" was a throw-in on Wanda's first Capitol LP (1958). No one realized that it would become one of her most popular songs.
"Fujiyama Mama" is probably Wanda's most notorious recording. This Earl Burrows number opens with Wanda wailing, "I been to Nagasaki, Hiroshima too. The things I did to them, baby, I can do to you!" It's a hi-test, rootin', tootin', vocal chord-shredding performance.
"Fujiyama Mama" is pure insanity on many levels--the breakneck pace, the wildcat vocals, the bizarre lyrics. Ironically, the song was a huge hit in Japan, and Wanda played to packed houses when she toured there.
The lyrics do a good job of describing her hellacious vocal style.
Well you can talk about me, say that I'm mean
I'll blow your head off, baby, with nitroglycerine!!!
Nitroglycerine, indeed. The pure energy of this song threatens to blow the hi-fi sky high. Kicks magazine called "Fujiyama Mama" "probably the best female vocal ever done in rock & roll."
"Savin' My Love" (1958), another Wanda original, might be her best cut. It's got a chug-a-lug rhythm, inspired but not demonic vocals, and tasty acoustic guitar licks. The mood is one of restrained passion, as if the damn is about to burst.
Wanda reeks with desire on verses like, "I love you every mornin', love you every night. Oooh, lordy lordy, I'll sure love you right." Every time I hear this track, I experience an unmistakable stirring. Lordy, lordy!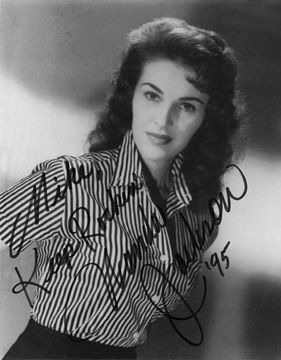 On stage, Wanda wore tight silk dresses, red lipstick, and high heels. She wanted to add glamour and sex appeal to her image, and, man, did she ever. Wanda had curves in all the right places. In fact, she was so sexy, she wasn't allowed on stage at the Grand Ol' Opry until she covered her shoulders.
Her early rock tunes portray a woman hell-bent on getting her rightful share of the fun, just like the boys, and that meant sex too. She completely rejected the reserved and suffering image of many other female singers of the time. Wanda instinctively knew that sex was the underlying subject of rock & roll. This was years before the women's movement and before female rock singers were commonplace. Wanda Jackson was well ahead of her time.
By 1960, however, Wanda's career had stalled. Her rock singles weren't reaching the charts, and she wasn't generating much cash. But things changed when a disc jockey in Des Moines started playing "Let's Have a Party." Its popularity snowballed, and Capitol reissued it on a single with "Cool Love." This way-cool 45 reached #37 on the pop charts and was Wanda's first bonafide national hit.

This unexpected success inspired Capitol to quickly collect her non-LP rock singles. The incredible Rockin' With Wanda LP was released in 1960. Despite a few slow numbers and a lame cover, it's an amazing slab of vinyl, and it documents Wanda at the height of her rock & roll prowess. Guaranteed to get the feet jumpin'.
Wanda was soon back in the studio recording an album of new rock material. By then she had added the hot pickin' Roy Clark on lead guitar. Clark, however, was more of a country guitarist. Consequently, Wanda's new sound wasn't quite as rocking, but Clark wrapped lyrical, whimsical lines around each of Wanda's tunes. So besides Wanda's earth-shattering growl, you get Clark's inventiveness, and that ain't a bad combination.
There's a Party Goin' On was released in 1961. It includes two very hot party-related songs and great versions of "Tongue Tied" and "Riot in Cell Block #9," which contains Wanda's revised lyrics. The final line of this snippet from "Riot" erupts in a crescendo of caged heat:
They called the state militia...in the middle of the night
Each and every trooper looked so tall and fine
All the chicks went crazy up in cell block #9
Unfortunately, neither of Wanda's rock LPs were big sellers. The fact that she was a young, cute, small-town country girl singing rock 'n' roll was already a bit "out there." That she sang as if possessed by some sex-obsessed demon was too much for the general public.
So Wanda recorded three traditional country albums in quick succession: Right or Wrong and Love Me Forever in 1961 and Wonderful Wanda in 1962. They sold well and spawned two top ten country hits, "Right or Wrong" and "In the Middle of a Heartache," both of which were Wanda originals. Decca also released her country singles from 1954 and 1955 on Lovin' Country Style (1962). For the first time, Wanda was knocking down some serious coinage. Wanda also married Wendell Goodman, an IBM programmer. He soon became her manager, and they had two children
In 1963, Wanda went into the studio and took one more half-hearted shot at rock & roll. The result was The Two Sides of Wanda Jackson, an LP of half rock and half country. It contains a number of strong rock cuts--"Whole Lotta Shakin' Goin' On," "Honey Don't," "Rip It Up," and "Searchin'."
In "Whole Lotta Shakin'," Wanda takes a teen dance rave-up and turns it into a come-on. During the bridge, Wanda coos to the object of her affection, "Let's get easy now. Shake, baby, shake. Get real low. Stand in one spot and wiggle around a little bit. Now you got it, baby."
Unfortunately, that was the end. Wanda's career as a rock hellcat was over. It was a sad, sad thing. I suppose her heart just wasn't in it. I suspect that Wendell's wasn't either.

Wanda went on to produce dozens of popular country albums and dozens of hits. From 1965 to 1967, she had her own syndicated television show, Music Village. In 1966, she had a #1 hit in Germany called "Santo Domingo."
By the mid-1960s, she was a staple in Vegas, playing extended runs to capacity crowds. By the late 1960s, Wanda was recording songs like "If I Had a Hammer" and "Tears Will Be the Chaser for Your Wine." These songs were heavy on the pathos and on the strings, which is bad news on both counts.
Wanda and Wendell found Jesus in the early 1970s, and she retreated further from her crazed rock persona. Wanda wanted to do a gospel album, but Capitol wasn't interested, so she left after sixteen years with the label.
During the 1970s, Wanda recorded several albums for small religious labels, and Wendell set up evangelical church tours for her throughout the country. She actually wanted to do a mix of country and religious music, but the religious labels weren't interested in country music. She was pigeonholed.

But Wanda's combustive rock & roll hasn't been forgotten during the past twenty years. Capitol put out a double album of her rockabilly songs in 1978 but never followed up with a CD. Rhino released a half-rock, half-country career retrospective on CD , but Rockin' in the Country has only nine rock songs, which is good but not good enough.
Charly Records, an English label, released a double LP of her rock tunes, first on vinyl and then on CD, in the 1980s. This is your best buy unless you can find Rockin' with Wanda or There's a Party Goin' On, but both are rare items and go for big bucks.
While her popularity in this country has waned, she has remained popular in Europe. She occasionally tours England, Scandinavia, and Germany, playing a mix of rockabilly, country, and gospel.
Although she has never been fully recognized for her contribution to early rock & roll, she is highly respected in the rockabilly world. Her early rock cuts are included on many rockabilly compilations, and every female singer who does a rockabilly tune is inevitably compared to Wanda. Perhaps that's the best compliment.

Whatever she did after 1962, Wanda Jackson had already become one of the Queens of Rockabilly. For six years she created rock music that reached the level of greatness. That's where the songs draws you in further with with each listen, and you realize that each one is, in its own way, a small miracle.
There was something inside that sweet Oklahoma teenager that was roaring to get out. She projected a rebelliousness, gleeful chaos and a sexual energy that couldn't be contained. This, my friends, is what rock & roll is all about.
Postscript: In 1995, Rosie Flores released a CD called Rockabilly Filly. It contained one of Wanda Jackson's early rockabilly songs with Wanda herself singing backup vocals. That Fall, Rosie Flores went on tour with Wanda Jackson. I saw their show on a snowy December evening at the Trocadero in Philadelphia. Rosie Flores was good, but Wanda stole the show. She did a set of all her greatest rock songs, proving that she still knows how to rock. Following the show, she spent an hour signing autographs.
---
Wanda Jackson CDs:
You can purchase these Wanda Jackson CDs from Amazon.com:
Queen of Rockabilly
30 of her best rockabilly tune on one CD. A must have.
Right or Wrong
4-CD set put out by the Bear Family, a German label. Over 120 songs! $105
Tears Will Be the Chaser For Your Wine
Another box set by the Bear Family. 8 CDS, 220 songs. $188
Vintage Collections
20 songs recorded between 1956 and 1961, half rockabilly, half country.
Nice booklet with photos and info.
Greatest Hits (WEA/Atlantic)
Mostly country