The Lost Army, carved and charred linden, dimensions vary, 2005. Photo: Karen Mauch.

The Lost Army and Other Small Monuments (2005)
Schmidt Dean Gallery
1710 Sansom Street,
Philadelphia PA, 19103
215-569-9433

Susan Hagen is known for her meticulous small-scale carved wood sculptures based on contemporary interpretations of myths, legends, and traditional subjects from art history. In The Lost Army, she has turned her attention to the subject of the ongoing United States occupation of Iraq, focusing on the individual American soldiers who have served there. The Lost Army is a monument to these soldiers and consists of a series of one-foot tall carved-wood soldiers. Each soldier is charred velvety black and complete with gear and weapons. The pieces are displayed together as an installation.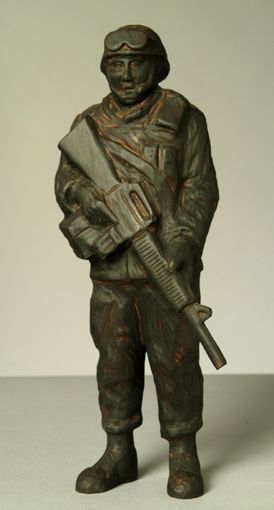 The Lost Army: Soldier 1, carved and charred linden, 12 x 5 ¼ x 3 ½", 2005. Photo: Karen Mauch.