Back to
Slackjaw Online Home
Illustration by Russell Christian.
See more Slackjaw columns in Patreon
Copyright Jim Knipfel. All rights reserved.
---
Purchase Jim Knipfel's books:


Ruining It for Everybody, Jim Knipfel's 3rd memoir. An anti-spirituality spiritual manifesto.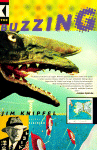 The Buzzing, a novel


Quitting the Nairobi Trio, available in hardback or trade paperback.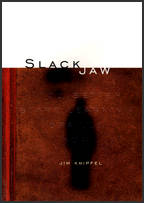 Slackjaw, available in hardback or paperback. Also available, Blindfisch, the German translation.
Back to
Slackjaw Online Home ~ missionCREEP.com
Slackjaw by Jim Knipfel
Dealing
Sept. 19, 2001--At 4 o'clock last Tuesday afternoon, the 11th St. Bar was crowded like it rarely is that early in the day. The same was true at most every other bar in the city. While restaurants and shops and other businesses were closed, empty and shuttered tight, the bars stayed open, many even opening early that day. Those with televisions, at least. The bars were quieter than usual too. No music on the jukebox, every eye trained on the screen. Nobody said much of anything. They just drank, smoked and watched.
People just wanted to be somewhere, just wanted to be around other people that night. There was a confirmation in that–a confirmation that we were still here, that these other people around us, friends and strangers alike, were still here, and that, corny as it sounds, we really were in this thing–whatever it was–together.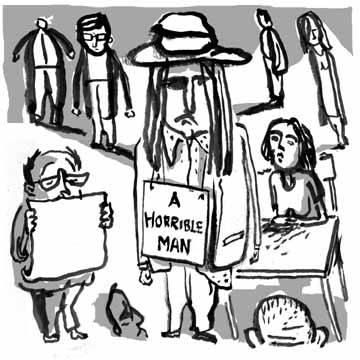 The following morning, my girlfriend and I headed out early, ostensibly to go to one of the blood donation centers. There was little else for us regular citizens to do, it seemed. We weren't searching for bodies or clearing debris or putting out fires, but we could at least give blood.
As we were bounced from Beth Israel, to Cabrini, to NYU Medical Center to points farther north, as we walked the sidewalks and streets with everyone else, we witnessed a pastiche of a city that normally on a day as sunny and cool as that Wednesday would have been full of laughter and bikes and skateboards and life. That day, though, things had changed.
Already, as we walked up 1st Ave., photocopied pictures of missing family members began to appear on telephone poles and any available wall space.
An office building maintenance man, when asked if everyone he knew was okay, told me, in a voice that was surprisingly calm, that his sister worked on the 42nd floor of one of the towers, and the family hadn't heard from her yet.
"The hospital told us to wait another day or two, so we just have to sit tight. But she's always been a rogue. I'm sure she'll pop up in a few days and give us a call."
Even by 10 a.m., a common question on the sidewalks throughout the city had become, "Were you able to get a paper?"
Despite the Mayor's call that businesses south of 14th St. stay closed, a good half of them were open. Most all the delis were open, as was McDonald's, and Blockbuster Video.
Every car on the street, it seemed, had a siren of some kind blaring, and all the new cadets had been put to work on traffic detail.
Just a block and a half from the 11th St. Bar, police officers were setting up barricades around the windowless brick facade of the Islamic Council of America, Inc. mosque, and later that afternoon it was clear that local Muslims had been told not to travel alone. Already, stories were beginning to spread. A shopkeeper reported that kids were throwing rocks at him, and that his store had been vandalized. His wife, however, I discovered, had heard nothing about this. There were stories of widespread looting of Arab-owned shops in Queens, and other, unrelated stories of people shooting themselves on the subway as word of what was happening first began to get around.
On the Upper East Side, things were quieter, but closer to normal, except for the heavy police presence around the Armory, and except when you got closer to one of the three blood centers. Already by 1 o'clock on Wednesday (as thousands of you no doubt know), everyone who showed up to donate was being turned away, asked to try again the next morning, or the morning after that. Those of us who did come back found the same story waiting. At 8 a.m. Thursday morning, Red Cross workers simply began taking names and numbers, promising they would call us all in later.
Through it all, people were more polite than usual. That was my experience, at least. On the streets, in the subways. Even in the grocery stores early Tuesday afternoon, overwhelmed as they were with people stocking up on bottled water, bread and canned goods, the lines stayed orderly, the voices low.
As we walked, too, we kept running into people, old friends, some of whom we hadn't seen in five years. Even the most apocalyptically minded of them could find nothing to smile about. We also found ourselves talking to strangers we probably would have never spoken to otherwise. That sort of thing happens.
A three-tour Vietnam vet named Mike told us that two brothers and a nephew of his were among the first firemen on the scene, but they were all safe. He also believes–and he's not alone–that the only thing to do now is obliterate the Middle East.
"You can't just get bin Laden," he said, "because there'll always be someone there right behind him to take his place."
At another bar, two World War II vets let everyone know that they'd seen worse.
"Look at 'em," one spat when the television announced that three policemen had been located under the rubble. "They're just saving their own. They don't give a fuck about the rest of us."
Around the corner, the giant flag that normally appears only to mark the Fourth of July hung over the street outside the Hells Angels clubhouse–and up in the wholesale plant district on W. 28th St., people stood on the sidewalk outside their shops selling small American flags for $3 each.
By late Wednesday, as the cloud of smoke and fumes blew heavy north, then heavy south, then back again, the surgical masks appeared. My girlfriend noticed that an enormous percentage of those who elected to wear the masks were blond.
"Blonds wear more masks," she said.
A middle-aged woman (blonde, as it happens) stopped us and asked if I could spare a cigarette. As she took it, she looked down with embarrassment at the mask that now dangled around her neck.
"Yeah, look at me," she said with a shrug, as she lit up.
On E. 10th St., a group of teenagers, all of them wearing white surgical masks, had set up a skateboard ramp in the middle of the now-empty street.
Elsewhere south of 14th St., due to the traffic blockade, bars began to run out of beer, and restaurants began to run out of food. No traffic meant no delivery trucks. There was no hamburger left, we were told at one place, no bacon, no chicken, no bread.
Another woman told us that all the pharmacists in the area had shut down too, so she had to find a way up to the Bronx to get a prescription filled.
Still, however, slowly, throughout the day on Thursday, some semblances of normality began to reappear around the city. In midtown and areas north, people were going to work again. The streets and sidewalks were crowded. Horns started honking. Garbage trucks, finally, rumbled down the sidestreets again.
And perhaps most amazing of all, there were people–in and among the inconveniences and the horror-filled eyes that surrounded them–who from moment one didn't seem affected by any of this at all.
An hour after the first plane hit, as Morgan was trying to get back to her place from 137th St., I was clawing my way through the crowds on 5th Ave. Most of the people were moving south, like I was. Some were crowded in the middle of the street, taking pictures of the burning towers in the distance. I caught flashes of news reports as I passed people with radios. At 20th St., I encountered a woman walking north with a friend. The burning towers, the clouds of smoke, were clearly visible behind her, blackening the clear blue sky.
As she passed me, I heard her turn to her friend and ask, in a chirpy, singsong voice, "Say, would you mind if I shared a little gossip with you?"
The next morning in Veselka, while grown men wept openly over their coffee, another young woman yammered loudly and endlessly about the new guy she'd been dating.
And late Wednesday night, on a train heading into Brooklyn, I encountered a bum who clearly hadn't heard any news at all.
"Good evening ladies and gentlemen," he began as he stepped aboard the car, "I'm sorry to disturb you after your workday... I hope you had a good day... Maybe you're thinking about heading out tonight and having some fun... But I'm just trying to get enough money here to get myself some chicken and rice and a soda...any help at all that you could spare..."