No.8
Overdoing It (as usual)
Articles
Doin' The Dog: A Concise Guide to Bus Travel in America by B. Amundson

Chula Boleras: A ball, a beer, an alley, and there's peace - A Film Review by Brian Gordon
Stories
Life and Death in the Potawatomi Valley Apartment Complex by Kurt Nimmo

The Romance of Ms. Fish and the Midget by Tom Whalen

Poetry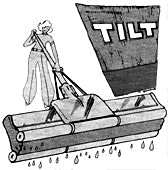 Poems (with frames or without frames) by Jon Longhi, Ron Pronk, Rodney Alling, Brian McGlynn, David Reid Dillon, and Steven Jacobsen.
Poems for David Cassidy by Jennie VerSteeg
All copyrights remain with the authors and artists.
Send a Letter to the Editor.


Add a comment to the Expresso Tilt Guestbook or view the guestbook.
[TiltHome] [GipperIssue] [EarlyMadness] [No.5] [No.6] [No.7] [No.9] [No.10]
[PenisPage] [PeoplePage] [FeaturedWriters] [StoryCollection] [ExpressoPoems] [TheFunnies]
[missionCREEP]
Please use the following link to buy books or music online.
A small percentage of the proceeds goes to missionCREEP. Thanks.