Burnette G. Pletan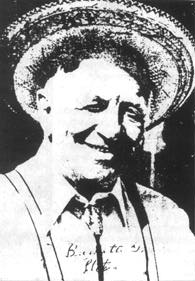 Fastest Artist in the World
by B. Amundson
Burnette G. Pletan is the World's Fastest Artist. Hands down. Unequivocally. To see Mr. Pletan in action is to witness an impish dervish of the expressionistic palette, the Ayatollah of speed acrylic technique, a blurring force that captures nature's supreme essence.
Others aspire to this crown, including every goateed public television descendant of John Nagy and the insufferable Denny Dent, who tours the country under the auspices of SPIN magazine, painting outsized portraits of rock stars to the 'inspiration' of their music. But Denny is a hack, a youngster fronting corporate capitalism under the guise of hipness and creativity. Burnette works alone, always has, embodying the best of time-tested American virtues: the work ethic, entrepreneurial capitalism, unwavering self-promotion, and indigenous creative genius.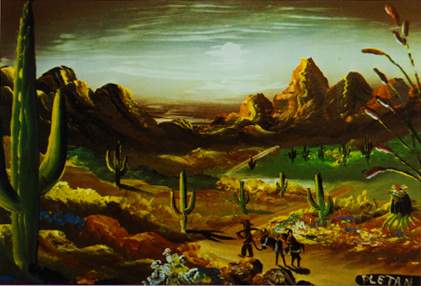 Pletan's Rustic Desert Style
For years, Burnette G. Pletan had been an enigma to me. He first entered my consciousness, circa 1974, via a soiled flyer for the Black Hills Holy Land, Custer, South Dakota where he was doing a three month gig, cranking out mother nature topping landscapes at a rate of six per hour. The operators of the Holy Land, sensing God's Hand in the proceedings, concluded that Mr. Pletan had "truly been blessed."
In 1979 I glimpsed a dilapidated Winnebago in the parking garage of Denver's Stapleton Airport. On the side was an irregularly shaped, beautifully rendered midwestern landscape which evoked tears of nostalgia for the north country I had forsaken. Over the painting were the words BURNETTE G. PLETAN. WORLD'S FASTEST ARTIST. The vision touched me deeply.
Then one night he popped up in living color, painting a landscape UPSIDE-DOWN beneath the abominable smile of John "I'm Chippendale Wholesome" Davidson on That's Incredible, while an appreciative, though aesthetically naive, studio audience goaded him on. Burnette slashed at the canvas (actually an unprimed masonite panel) with everything from a 4" brush to credit cards, splattering Davidson in the process, which managed to diminish John's veneer-thin patina of enthusiasm. My admiration for the mythic brushman deepened.
Finally, last summer, a friend called with the news that he had actually met the Legend, acquired some of his work, and could secure a painting for me as well. I fired off a check and within a week a package arrived bearing a vintage Pletan summerscape, 1986. I was now an official collector, and my obsession with the Great Man reached new heights.
Then this year my parents became Snowbirds. With the dark winter of 1987 rapidly approaching, the temptation to flee Wisconsin's suicide inducing chill for that RV version of the Grapes of Wrath, Mesa, Arizona became overwhelming. Their enthusiasm for the new double-wide was unbridled, of course, and the Desert Dawn trailer park was all they had hoped for and then some. "Are you coming down for Christmas?" they asked during the first of many calls and then added, "Do you know anything about some guy called the fastest painter or something, lives right up the way, sorta crazy?" You bet I knew. It was him. Right in my adopted back yard.
December 29, 1986. I was pacing nervously outside of "Pletan Place," a run-down, powder-blue trailer. Signs of Burnette were everywhere, from the paint-splattered easel with the rustic "World's Fastest Artist" plaque to the piles of unprimed masonite waiting for the master's rapid touch. In the previous week I had viewed his work throughout the Mesa-Apache Junction region, from garage doors to customized van wheel covers to the interior of an Italian restaurant. Burnette was ubiquitous. I even managed to acquire another original, a winterscape, for the unheard of price of two dollars at a local Salvation Army outlet. But I had yet to meet the man himself, and my anticipation was becoming palpable. Suddenly a Ford Escort with personalized plates reading "Pletan" pulled into the driveway, and a slightly stooped, unassuming elderly gentleman emerged. He shook noticeably, which probably accounted for the expressionistic turn of his recent work. I introduced myself and he invited me in for a morning glass of Mogen David. My unease vanished instantly. He had just put the finishing touches on a camper trailerscape, he explained, as we sat down amidst the cluttered paraphernalia of his long and illustrious career to discuss his life.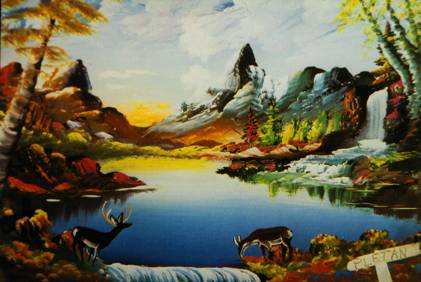 Pletan's Rustic Summer Forest
Burnette was born in Wendell, Minnesota in 1910, a direct descendant of Norwegian explorer Leif Eriksen. His art career commenced in 1931 after he observed a man selling hand-painted pictures on slabs of wood and said to himself, "I can do that." After a summer of practice he set out via "side-door Pullman" (i.e. boxcar) to pursue a nontraditional art career full time. Since this less than auspicious beginning he has painted nearly 100,000 pictures, circumnavigated the globe twice, painted for the King of Norway and Paul Harvey, on whose radio show Burnette has been featured six times. He spends his summers traversing the Midwest in his studio Winnebago, painting lush forest scenes resplendent with deer, lakes, and waterfalls on things like garage doors. He is thinking of breaking with tradition this summer to paint 1000 gold pans for a Seattle-Juneau ferry company in Alaska. And in the fall he will begin his piece-de-resistance, the world's largest painting: two continuous miles of eight-foot high concrete wall outside of Florence, Arizona, which coincidentally surrounds the state prison. For this herculean task (Rauschenberg fell short in his attempt at a measly mile long picture) Pletan will require the assistance of a Christo-like crew and a projected five years time, although he will handle all brushwork himself.
After offering me an assistantship ("You're Norwegian, you must be honest"), which was not only flattering but quite tempting considering Burnette's stature, we watched his new video, "How to Paint a Picture with the World's Fastest Artist," which covered substantial artistic yardage in a sit-com time span. Burnette paints three subjects: Rustic Summer Forest Scenes, Rustic Winter Forest Scenes, and Rustic Desert Scenes, but after 1/10th of a million outings, he is quite at home with all three subjects. I managed to acquire a large desert scene done in "3-D style" (a euphemism for the use of day-glo Krylon on the sunset) and a lovely hand painted ripsaw (summer rustic) to round out my collection. But it is Burnette's friendship that I cherish most.

Pletan's Rustic Winter Forest
Burnette G. Pletan is the Louis L'Amour of the art world, not only from a quantitative standpoint, but in the astonishing breadth of his vision as well. He is also an artist of the moment, prefiguring neo-expressionism by a good thirty years. He manages to blow contemporary mass production sensations Haring and Basquait off the wall (and the camper, and the gold pan . . .) with his prodigious output, and his self-promotion acumen would turn (the late) Andy's wig green with envy. In short, Burnette G. Pletan is an artist for all time, but particularly for our time. His mixture of naiveté, charlatanism, and singular devotion to a unique vision make him a genuine frontier spirit, a real-life American folk hero for the '80s, and a precious natural resource.

Burnette G. Pletan has since died. Check out a letter about Mr. Pletan.
Go to the B. Amundson's Expresso Tilt page.
Check out Art on a Stick for more of B. Amundson's drawings and comics.